For a short vacation from Metro Manila, visit a neighbouring private resort. Batangas, Bulacan and Zambales have several private resorts, so you'll never run out of options. You may arrange packages including shuttles and excursions to make the vacation easier. This post will explore the top luxury resorts so you can choose one that suits your trip interests.
If you want a fast beach or nature retreat from Metro Manila, there are many regions nearby. Besides beach resorts, you can hire exclusive Philippine resorts with the full property to yourself. These places are great for a weekend getaway with family and friends or a relaxing business vacation. So grab tickets for Dubai to Manila flights and make arrangements in one of these resorts to spend a vacation you'll never forget.
The Lake House, Laguna
The serene hillside cottage The Lake House provides two quality lodgings in northern Caliraya Lake. Each hut is near the Caliraya stream with spring water nearby. The Lake House is a great Laguna resort for nature enthusiasts. Drink hot cocoa by the lake lounge or hang out in the cabin's air-conditioned entertainment area with friends and family.
City of Dreams, Manila
The City of Dreams Manila is one of many enormous resort and casino complexes that have emerged in recent years on Roxas Boulevard (near Manila Bay). It is comprised of three luxury hotels: the Nüwa Manila, the Nobu Hotel Manila, and the Hyatt Hotel.
While each of these recreational meccas has its unique offerings, Nobu, the Manila branch of renowned Japanese chef Nobu Matsuhisa, is the crown jewel of City of Dreams.
Zambawood, Zambales
Zambawood is a 26-hectare resort, situated off San Narciso, Zambales. Its four rooms include Indian, South African, Balinese & Morrocan themes inspired by the proprietors' many overseas trips. The owners founded the resort to rehabilitate their autistic son Julyan. They chose to share the peaceful vacation place with others, particularly special-needs families.
Okada, Manila
Okada Manila, established by Japanese gaming magnate Kazuo Okada, caters to vacationers in search of sumptuous experiences. The type of vacationer who feels that more is more will like the resort's casino, spa, wellness centre, and sun-drenched pool deck.
Villas inspired by popular Philippine vacation spots Cebu and Palawan have just been launched by Okada. The villas, which are the most costly in Manila, are designed to make guests feel as if they had travelled to the islands without leaving the country.
While indulging in the opulence of the luxury resorts near Manila's captivating waterfronts and lakesides, you'll find ample opportunities to explore fascinating facts about this vibrant city in this article.
Sofitel Philippine Plaza, Manila
Even though it's one of the oldest Manila resort hotels, the Sofitel nevertheless manages to wow. When looking out over Manila Bay, it's easy to forget that you're in the middle of the Philippines' bustling metropolis.
The spa and pool are wonderful, but the Sofitel's signature restaurant, Spiral, is where you should splurge. Spiral is well-known in the neighbourhood as the greatest buffet in town, thanks to its 21 different eating ateliers that never skimp on taste for quantity.
Indira Beach House, Zambales
This contemporary Botolan, Zambales vacation property is 3.5 hours from Manila. Indira Beach House has magnificent glass-windowed rooms with West Philippine Sea views. It can seat 14 people at this Manila seaside resort. It has two bedrooms with 10 beds, 3 restrooms, a sauna, a kitchen, outside eating and grilling for a private vacay.
Edsa Shangri-La, Manila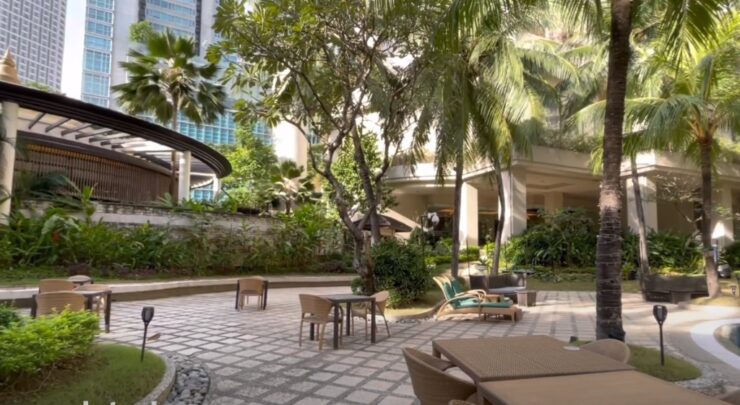 The Edsa Shangri-La Manila is the northernmost of the three five-star hotels owned by the Shangri-La Group in Manila. Despite their differences, the luxurious spa services of Edsa Shangri-La stand out among the other amenities. Located in the hotel's Garden Wing, Chi, The Spa is an independent building surrounded by tropical vegetation that makes you forget you're in a busy city near one of the country's best beaches.
Tanay Hideaway, Rizal
Tanay Hideaway is a great staycation site in Rizal for Manila-area relaxation. A must-see mountain resort near Manila is this hilltop lodging. The best part: it portrays the Sierra Madre Mountains scenery well. It boasts a large lawn, an outdoor dome, and web-inspired hammocks for stargazing. Three villas make up Tanay Hideaway.
San Rafael River Adventure, Bulacan
San Rafael River Adventure represents one of the high-end resorts in Bulacan, with glass-built rooms, glamping huts, and traditional kudos along the banks of the Angat River. In addition to the resort's infinity pool, each glass home also has its own private garden and mini-bubble pool.
Each cabin has central heating and cooling, a double-decker loft bed, a couch bed, cable television, a refrigerator, an electric kettle, a hammock, a reclining chair, and a bathroom with towels and toilet paper. The glamping cottages include everything you need for a comfortable night under the stars: a bed, blankets, pillows, an air conditioner, a small locker, insect repellent, a lamp shade, a basket, chairs, and a grill.
Preparing for comfortable summer flights involves not only packing wisely but also dressing appropriately – insights that seamlessly connect with the elevated experiences awaiting you at the luxury resorts near Manila's stunning waterfronts and lakesides.
Casa Kalinaw, Batangas
In the heart of San Juan, Batangas, Casa Kalinaw is a comfortable, contemporary 2-story holiday house with 7 bedrooms that can sleep 15 people. Glass windows and doors enable visitors to glimpse the pool and sea from its 3-bedroom villas. Its proximity also makes the Batangas tourism places' itinerary easy.
Guests may enjoy a delicious breakfast at the oceanfront restaurant. The pavilion and lounge provide alfresco dining. Full-service indoor kitchen lets you make your meals. There is a grilling and outdoor cooking area on the property.
Ataalaya Farmhouse, Batangas
The 5-hectare Ataalaya Farmhouse is a luxury bed & breakfast in Alitagtag, Batangas, on a cliff. The resort has a stunning view of Taal Lake and Mount Maculot and is considered to be the most distinctive near Manila. This two-story house blends Dutch, Indian, and Filipino styles.
It has a spacious living room, 3 sleeping areas, a kitchen, an outside eating space, sitting areas, and two restrooms with tubs overlooking Taal Volcano. Treasure chests, musical instruments, and artwork from the farmhouse owners' trips enhance the resort's theme.
Soler Sea Resort, Batangas
Soler Sea Resort, opened in 2018, has spacious bungalows and a Balayan Sea infinity pool. Solar Sea Resort, a family-friendly resort in Batangas' seaside rural town of Balayan, has a large common room, an eating area with long tables, and a pool area with a karaoke machine.
Wood and rattan make bungalow furniture and décor. Along with its beautiful scenery, the resort has coconut palms. Soler Sea Resort features 5 42-person rooms.
Explore how you can fund your luxurious getaways by earning money on the go, a concept intertwined with the opulent experiences offered by the luxury resorts in and around Manila.